+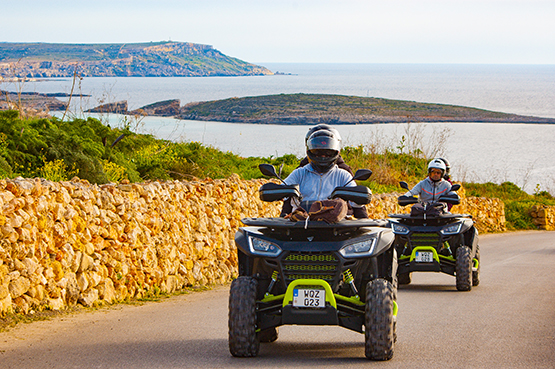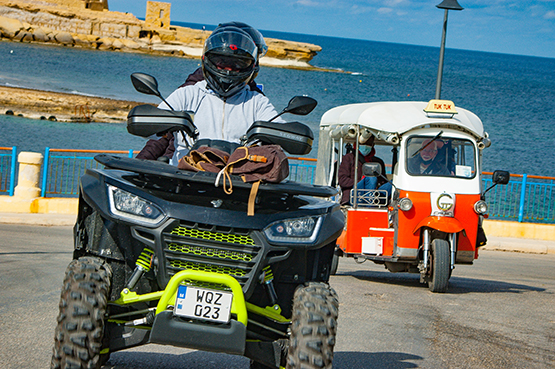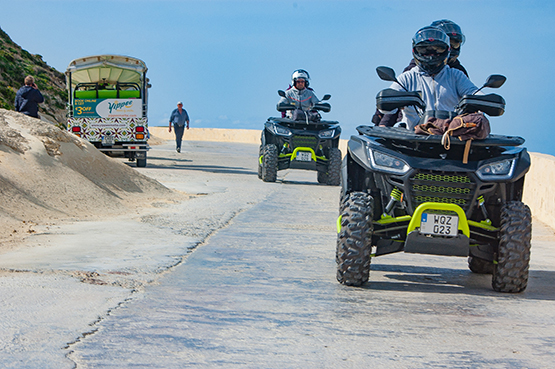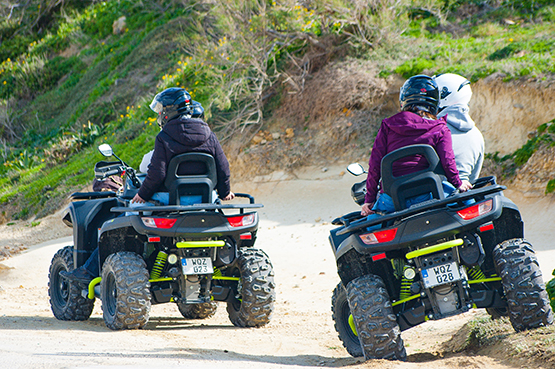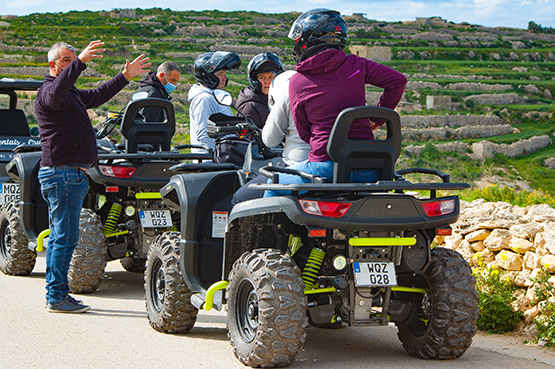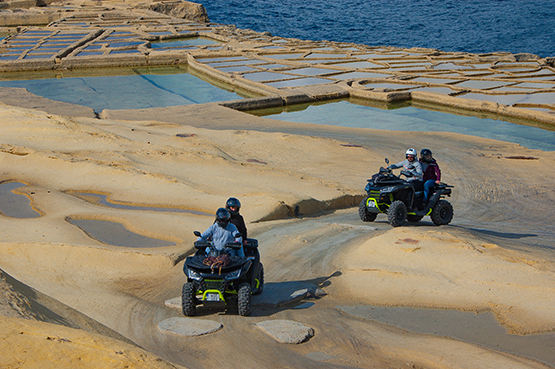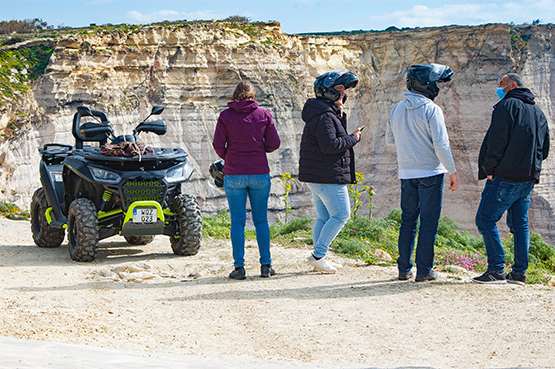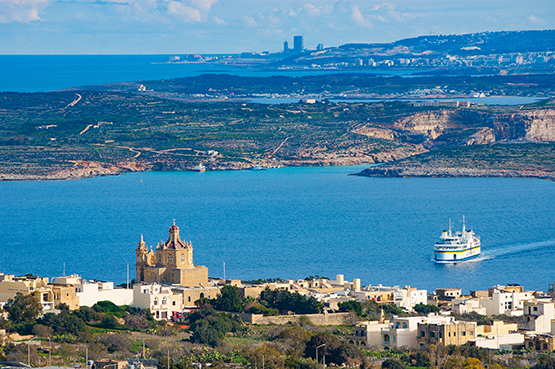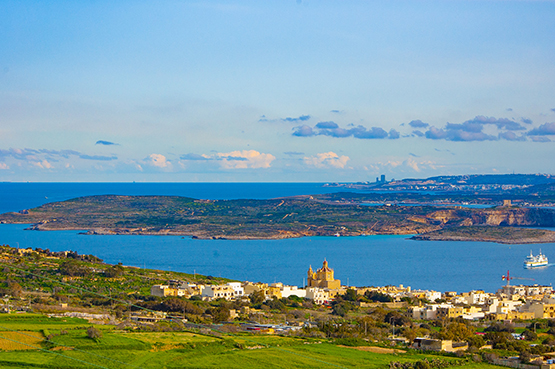 Gozo Self Drive Quad Tour
Quad around Gozo for a day
6 Hours - 4 Wheels - Self Drive
Includes Hotel Transfer & Traditional Gozitan Lunch
from

€87.5 each person
Price varies by group size
---
Yearning for a tour with a little more roar and adventure? Venture off the beaten track on a Quad 570cc (ATV) bike. Discover Gozo's raw natural beauty, trekking across coastal and country trails, reaching unique highlights such as Sannap cliffs and natural wonders like Wied il-Mielah Window and Wied il-Ghasri.
Brace yourself for a coastal trek alongside our stunning Salt Pans. Enjoy a refreshing swim stop in one of Gozo's magnificent bays during the summer. Quench your thirst and hunger with a light traditional Gozitan lunch
Weather permitting crossing over to Gozo will be aboard private boat reserved exclusively for our guests. On the return voyage our boat sails past Comino's captivating caves.
Whenever prevailing sea/weather conditions are severe crossing and return shall be by Gozo Channel communal ferry and tickets will be provided.
Quad drivers must wear helmets and undergo a safety / operational briefing before setting off in a convoy. Drivers must be aged 21 or over and present a valid driving license and credit card. Insurance Cover excludes the first € 350.00 of any claim, being the policy excess, which amount has to be borne by the driver/hirer in case of an accident.
Safety is our priority, and in the case of bad weather, customers will be upgraded to either a self-drive eJeep or a chauffeured Tuk-Tuk.
Come as a guest and leave as a local.
Price
€ 105.00 (Driver)
€ 175.00 (Driver + Passenger)
Pick up in Malta or Gozo from your hotel or closest pick-up point by Yippee transport.
Crossing to Gozo by boat exclusively reserved for Yippee guests. (Weather permitting)
Tour/Safety leader & Fuel
Light Traditional Lunch
Use of Helmets & covers on rainy days. Disposable Hairnets provided.
Swim stop in Gozo during the summer season
On the return journey boat sails by Comino's captivating caves. (Weather permitting)
Return to original pick-up point by Yippee transport.
Duration of Tour 7 hours (excluding transfers time)
Ferry ticket whenever required
Safety is our priority and in case of bad weather, we will upgrade guests either to a self-drive eJeep or a chauffeured Tuk Tuk.
Island Of Gozo
1. Church of St. John The Baptist, Xewkija
This impressive church boasts the third largest unsupported dome in the world. Access to the roof of the Rotunda via a lift, from where you can enjoy panoramic 360-degree views of Gozo.
2. Sanap Cliffs, Munxar
Not accessible by public transport or hop-on/hop-off tours, Sanap Cliffs is one of the highest points in Gozo. These breathtaking cliffs are a hidden gem with views of Malta and Comino in the distance.
3. Xlendi Beach, Cliff and Caves, Xlendi, Island of Gozo.
Xlendi is a very popular coastal destination in Gozo, with beautiful blue water, cliffs, and Xlendi Tower. We stop at the Belvedere overlooking the Xlendi Tower and bay.
4. Knight's Wash houses - Fontana
Two 16th century well-preserved public washhouses built by the Knights of St John may be seen on either side of Spring Street in the village of Fontana. The larger one is locally known as the Ghajn il-Kbira meaning the 'large spring'. The smaller one is Ghajn Bendu, 'Bendu's Spring'.
5. Dwejra Bay, San Lawrenz
This is where the famous Azure Window used to stand, although the area has so much more to discover, including Fungus Rock, the Inland Sea and Dwejra Tower. Do not miss the limestone quarries on your way down.
5b. Flo Azure Window – San Lawrenz
Flo Azure Window, is a cliff that is reachable by off road vehicles and offers stunning panoramic views of Dwejra's historic tower, fungus rock and the location where once stood Dwejra's window.
7. Wied il-Mielah Window – Gharb
This massive limestone arch is currently the last surviving rock-arch window in Gozo. It is a natural geological formation jutting out from the cliff walls. The winding valley on its flank is called Wied il-Mielah, translatable as 'Salt Valley'. This 29-metre-high structure is a massive block of coralline limestone strong enough to withstand the force of large sea-waves, salt erosion, and wind action.
8. Wied il-Ghasri – Ghasri
Wied l-Ghasri, is a marvellous place for a quad ride, especially in winter and spring.
10. Salt Pans - Xwejni
Xwejni is home to the Salt Pans, which are, as the name suggests, pans cut out of the rock where Gozitans still make salt to this day. The pans stretch for many kilometres.
11. Qbajjar & Marsalforn Bay
This is where our guests can enjoy a light traditional lunch at a restaurant by the sea.
13. Dahlet Qorrot Bay – Nadur
Dahlet Qorrot Bay is a small inlet nestled between the northern cliffs of Gozo not far from in-Nadur. There is a little pebbly beach to swim off, as well as a quayside and rocks on either side of the bay taking you straight into clear deep water.
Island of Comino
20. Comino's Caves
Comino Caves, which were naturally formed through hundreds of years of shaping by the rough Mediterranean Sea. Today, these caves are popular destinations as their crystal blue waters and magnificent structures provide an unforgettable experience for all.
Note: We make every effort to ensure our tours run smoothly and according to the posted itineraries. However, we reserve the right to modify our itineraries as we deem necessary to keep everything running comfortably and on time.
---