+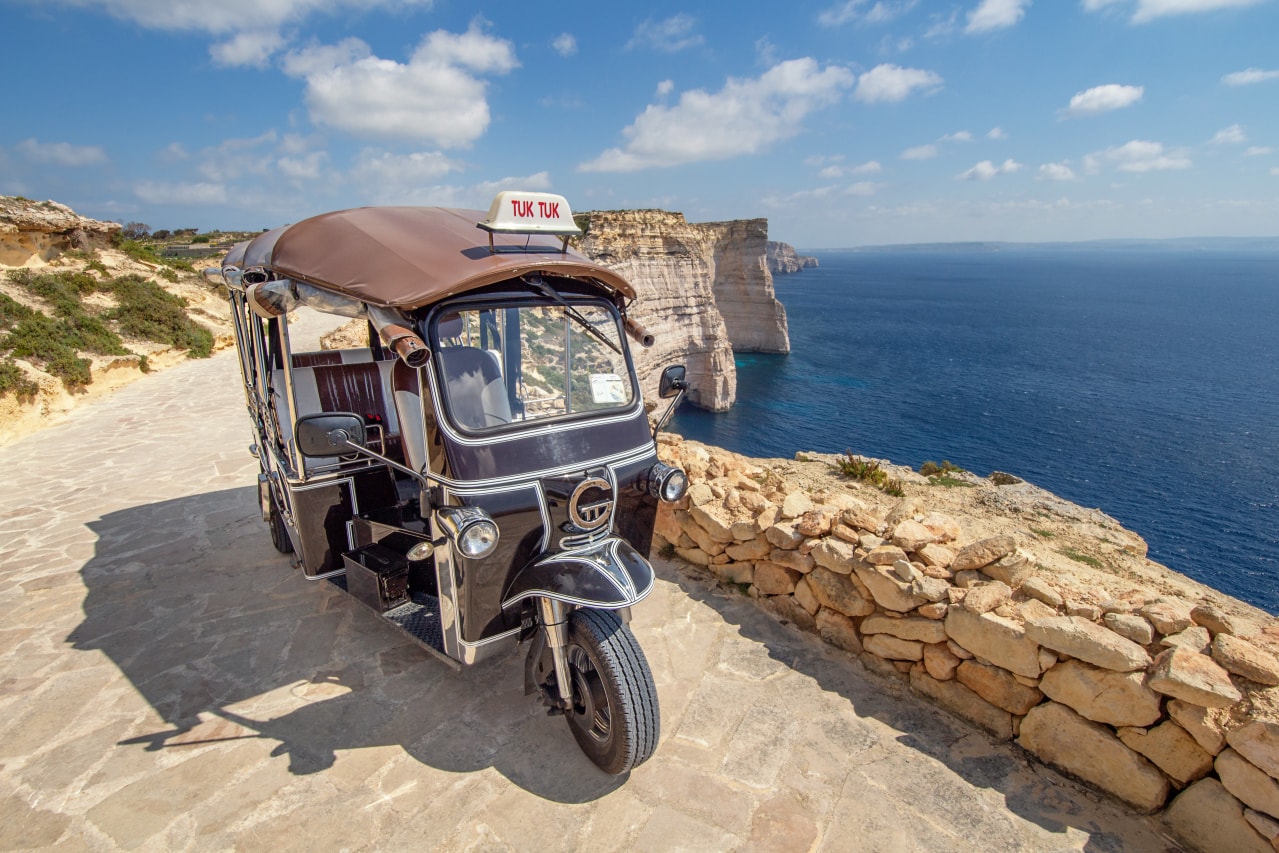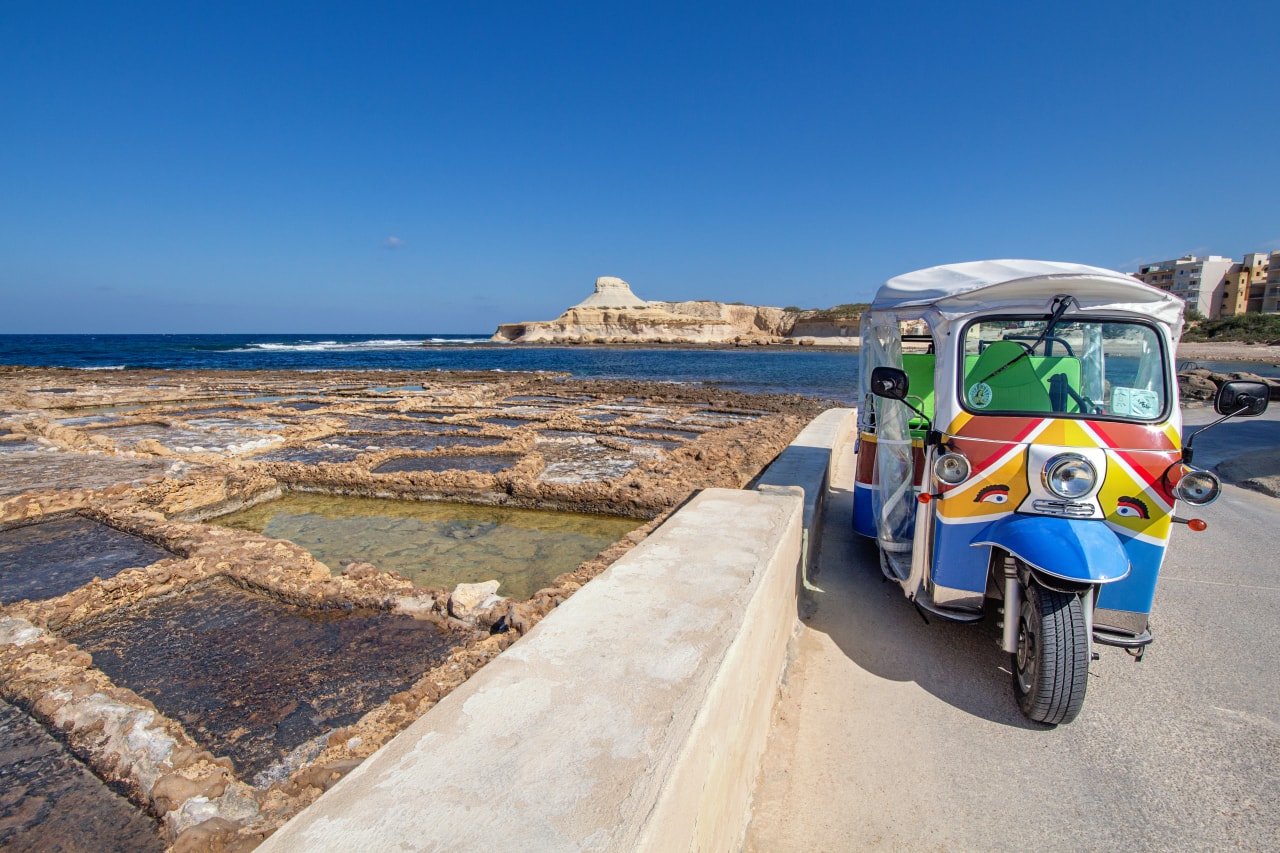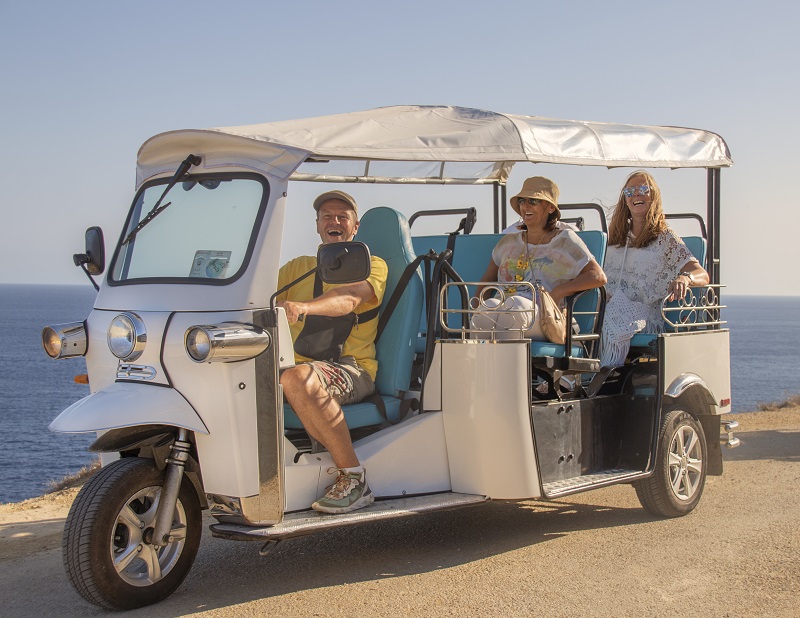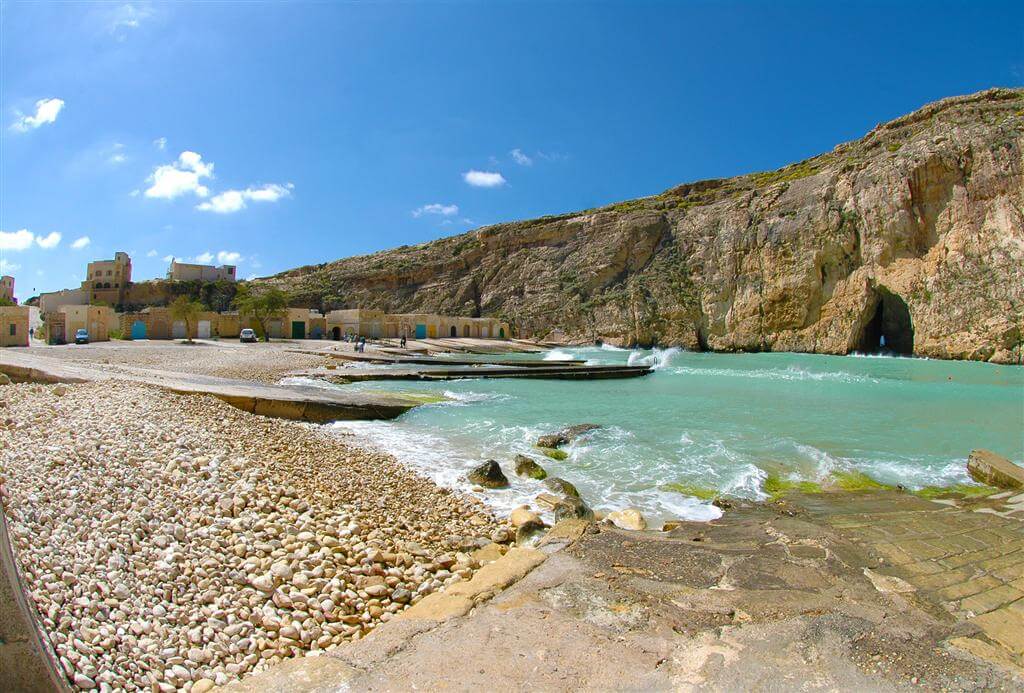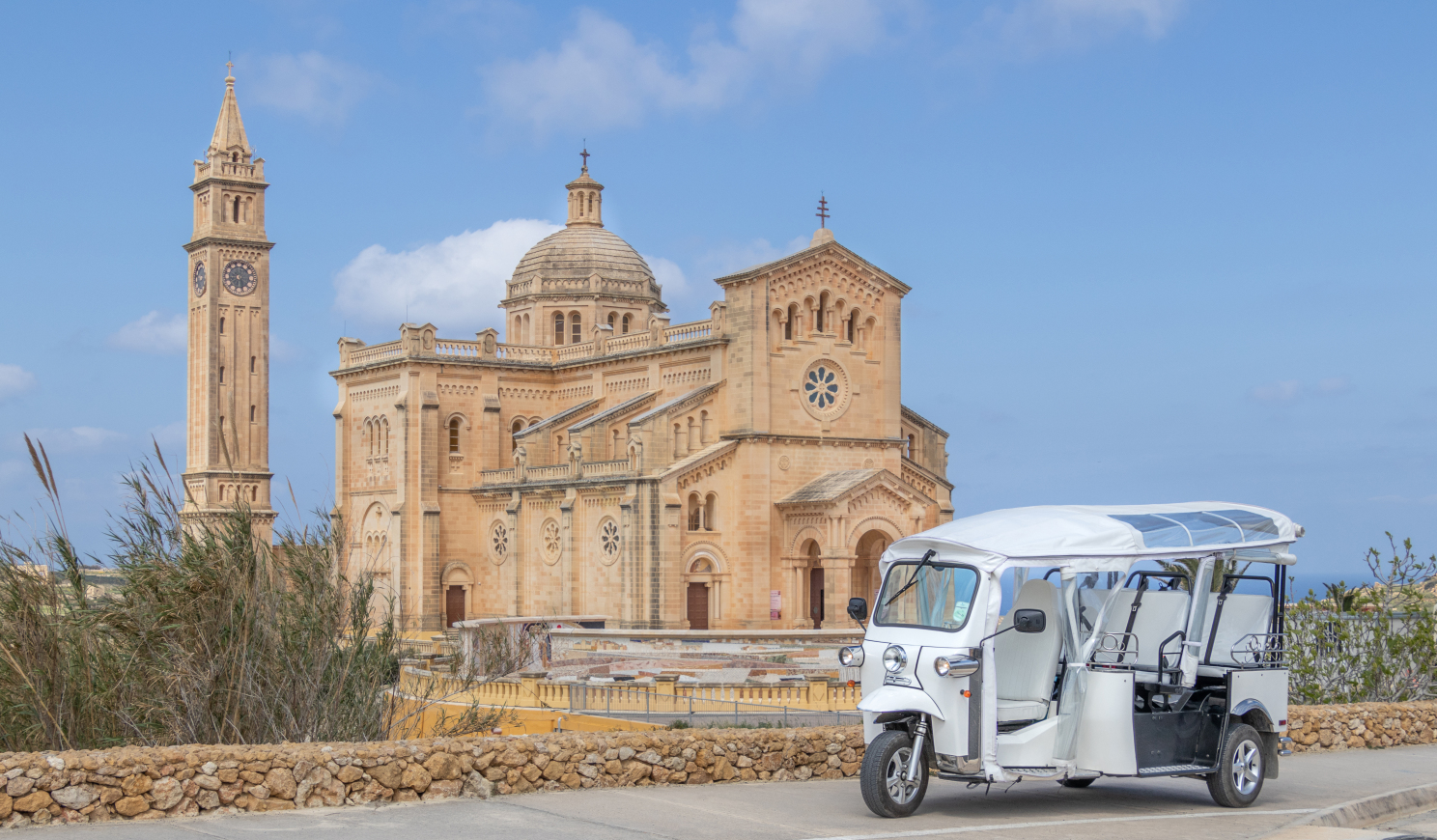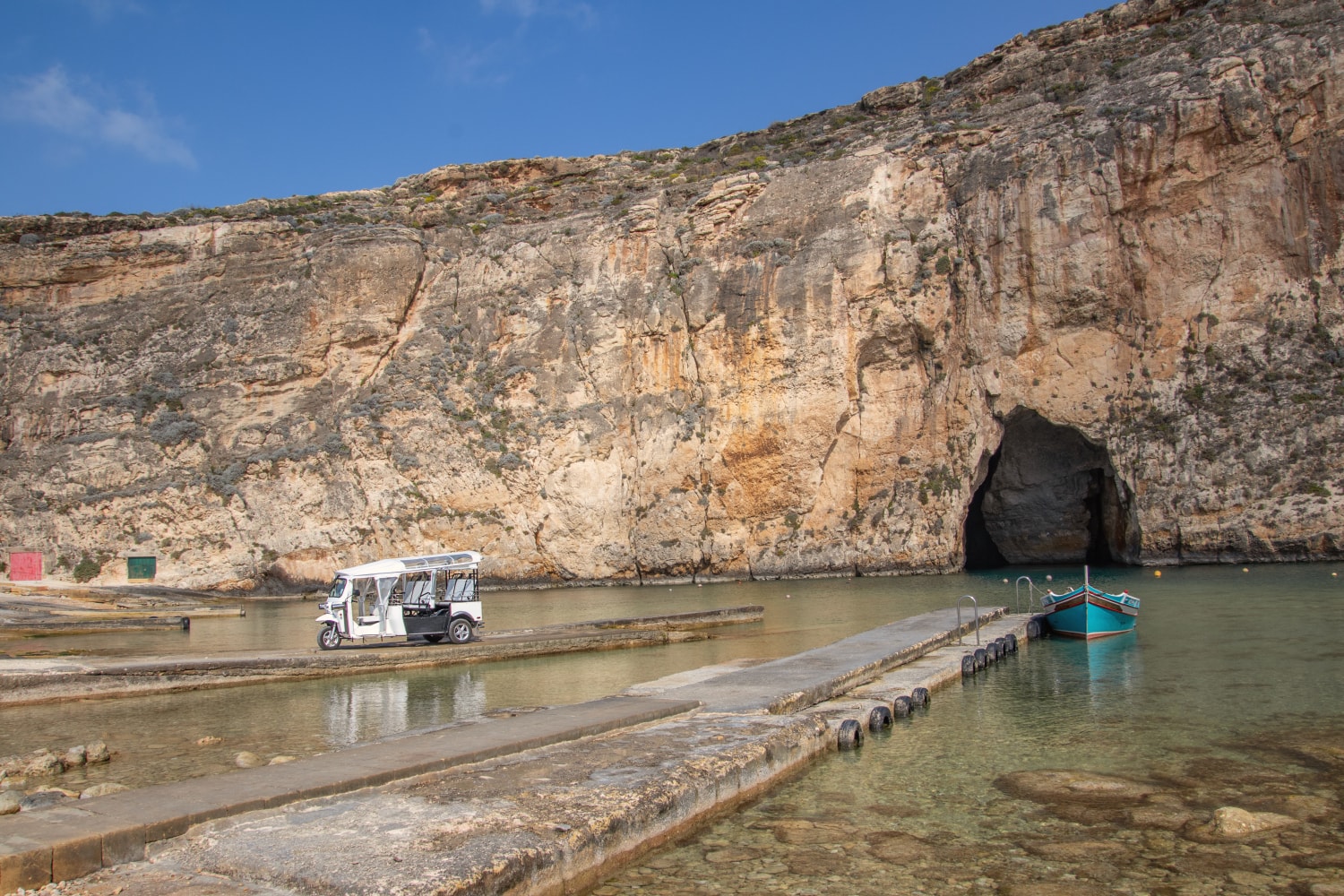 Gozo Tuk Tuk Chauffered Tour
w/crossing & return by Yippee Island Hopper boat
6 hours - Chauffeured
Includes Hotel Transfer & Traditional Gozitan Lunch
---
Bursting with nature and 7000 years of vibrant culture; let our Tuk-Tuks chauffeur you to Gozo's secret landmarks; cherished by locals, not accessible to hop on/hop off tours or public transport.
Explore Gozo's pristine coast and eye-catching architecture. Listen to the history echoing through our tiny villages and imposing city walls. Savour a light authentic traditional Gozitan lunch.
Let our Tuk-Tuks transport you to the heart of our island and our people. Tuk-Tuk's are driven by multilingual storytellers and carry a maximum of six (6) people. At every stop information is given in English/French/German/Polish/Dutch/Spanish & Danish
Weather permitting crossing over to Gozo will be aboard one of Yippee's boats reserved exclusively for our guests. On the return voyage our boat sails past Comino's captivating Blue Lagoon, Crystal Lagoon, and Comino's caves on the return voyage. During the summer season a swim stop at Crystal Lagoon is added.
Whenever prevailing sea/weather conditions are severe crossing and return shall be by Gozo Channel communal ferry and tickets will be provided by Yippee
Come as a guest leave as a local.
Price
Adult Euro 75
Child Euro 50 (3 years to 12 years)
Infant FREE (0 -3 YEARS) NO LUNCH INCLUDED
Prices include
Pick up in Malta or Gozo from your hotel or closest pick-up point by Yippee transport.
Crossing to Gozo aboard Yippee boat exclusively reserved for Yippee guests (Weather permitting)
Light traditional Gozitan lunch including a glass of local wine or water
Return voyage aboard Yippee boat visiting Comino's Blue Lagoon, Crystal Lagoon and Comino's captivating caves. (Weather permitting)
Swim stop at Comino's Crystal Lagoon (summer)
Return to original pick-up point by Yippee transport.
Multilingual storytelling drivers
Ferry ticket whenever required
Duration of Tour 7 hours (excluding transfers time)
Island of Gozo
1. Church of St. John The Baptist, Xewkija,
This impressive church boasts the third largest unsupported dome in the world. Access to the roof of the Rotunda via a lift, from where you can enjoy panoramic 360-degree views of Gozo.
2. Sanap Cliffs, Munxar,
Not accessible by public transport or hop-on/hop-off tours, Sanap Cliffs is one of the highest points in Gozo. These breathtaking cliffs are a hidden gem with views of Malta and Comino in the distance.
3. Xlendi Beach, Cliff and Caves, Xlendi, Island of Gozo.
Xlendi is a very popular coastal destination in Gozo, with beautiful blue water, cliffs, and Xlendi Tower. We stop at the Belvedere overlooking the Xlendi Tower and bay.
4. Knight's Wash houses - Fontana
Two 16th century well-preserved public washhouses built by the Knights of St John may be seen on either side of Spring Street in the village of Fontana. The larger one is locally known as the Ghajn il-Kbira meaning the 'large spring'. The smaller one is Ghajn Bendu, 'Bendu's Spring'.
10. The Citadel, Victoria
You can't go far in Gozo without seeing The Citadel - our ancient, fortified city perched on top of the rocks, right in the centre of Gozo. From the top of its walls, almost all Gozo can be seen. Discover the secrets hidden behind The Citadel´s walls, including WW2 shelters and grain silos.
7. Ta' Pinu National Shrine, Gharb, Island of Gozo.
Ta' Pinu is our ´church of miracles´ and a wonderful example of Gozitan heritage. This spectacular Basilica sits by itself in the countryside, with extensive murals and mosaics both inside and out.
11. Xwejni Salt Pans - Islands of Gozo
Xwejni is home to the Salt Pans, which are, as the name suggests, pans cut out of the rock where Gozitans still make salt to this day. The pans stretch for many kilometres.
12. Qbajjar & Marsalforn Bay - Island of Gozo
This is where our guests can enjoy a light traditional lunch at a restaurant by the sea.
Island of Comino (weather permitting)
17. Blue Lagoon
On the return boat transfer from Gozo to Malta Yippee Island Hopper boat sails around the picture-perfect Blue Lagoon.
18. Crystal Lagoon.
During the summer season Yippee Island Hopper boat anchors at the equally magnificent but less congested Crystal Lagoon for a memorable swim and snorkel.
18. Comino's Caves
Comino Caves, were naturally formed through hundreds of years of shaping by the rough Mediterranean Sea. Today, these caves are popular destinations as their crystal blue waters and magnificent structures provide an unforgettable experience for all.
Note: Points of Interest are subject to change at any time if necessary.
---