+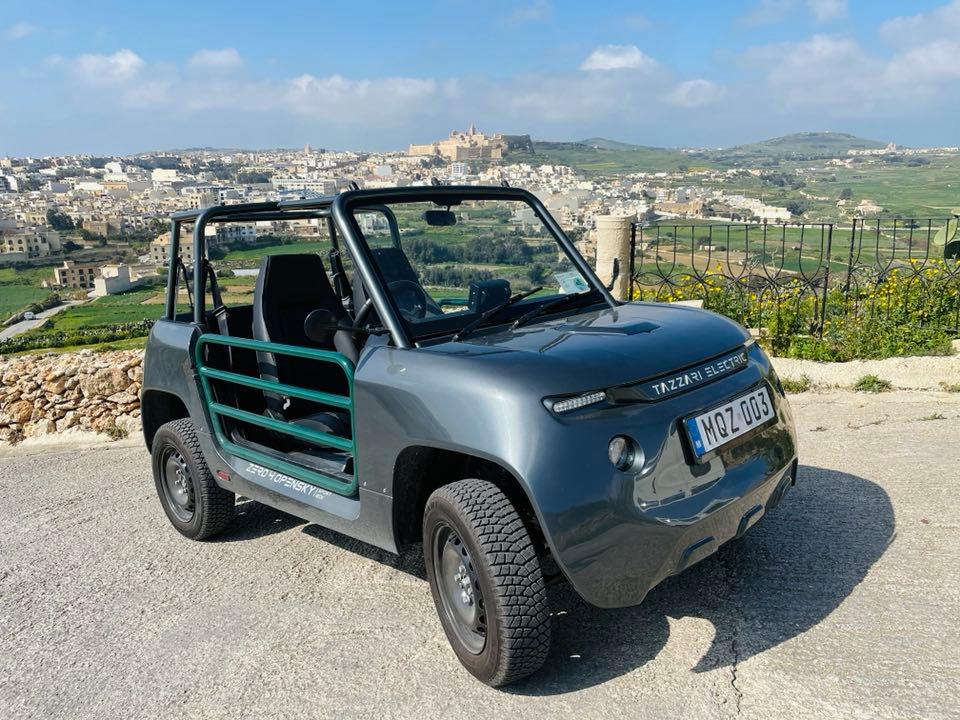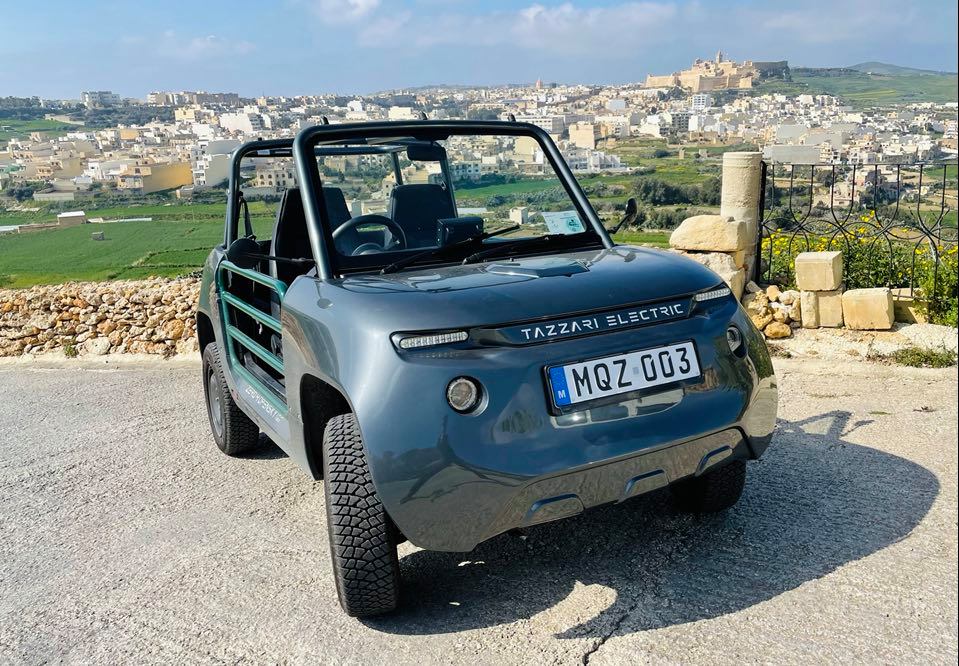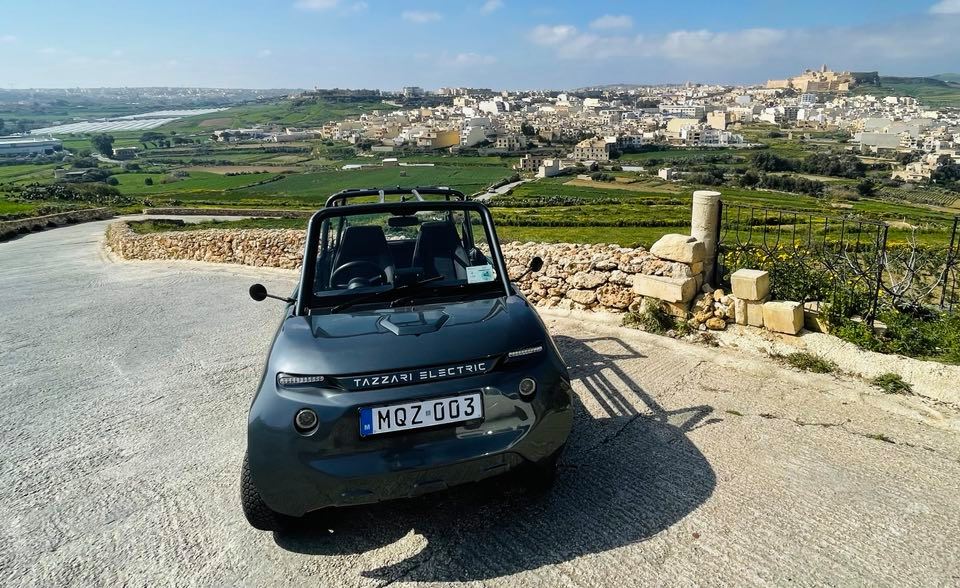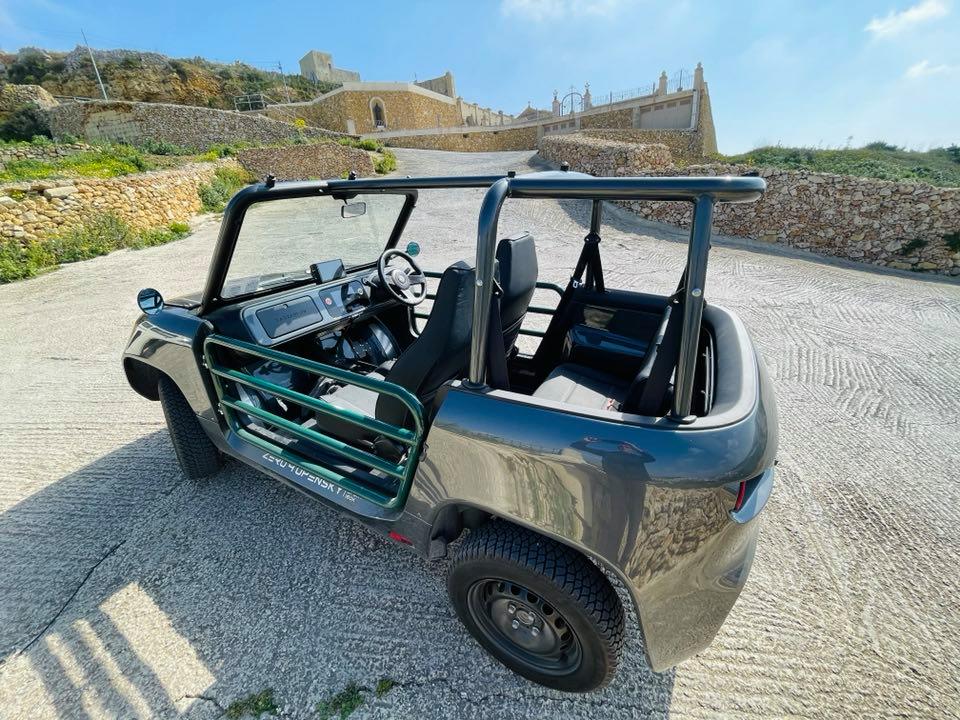 Gozo eJeep Tour
Self Drive across Gozo in an E-Jeep
6 hours - 100% Electric - Self Drive
Includes Hotel Transfer & Traditional Gozitan Lunch
from

€60 each person
Price varies by group size
---
This tour is ideal for families and groups of friends that would like to have an all-access, planet loving self-driving tour of Gozo. Designed for those who like the journey as much as the destination, you will power through rugged valleys and backroads, taking in sleepy villages and dramatic country and coastal trails in a convoy following one of our tour leaders / safety officers.
Get a fully loaded slice of Gozo. Enjoy a mouthwatering authentic light lunch and satisfy your thirst for the unknown, driving up-close to cherished landmarks not reached by Public Transport or hop on/hop off bus tours. During the summer season enjoy a swim stop in one of Gozo's charming bays.
Weather permitting crossing over to Gozo will be aboard Yippee boat reserved exclusively for our guests. On the return voyage our boat sails past Comino's captivating caves.
Whenever prevailing sea/weather conditions are severe crossing and return shall be by Gozo Channel communal ferry and tickets will be provided.
Jeep drivers undergo a safety / operational briefing before setting off in a convoy. Drivers must be aged 21 or over and present a valid driving license and credit card. Insurance Cover excludes the first €350.00 of any claim, being the policy excess, which amount must be borne by the driver/hirer in case of an accident.
Jeeps are 100% electric, self-driven and can accommodate a maximum of (3) other passengers.
Come as a guest and leave as a local.
Come as a guest, leave like a local.
Price
1 to 2 Pax = Euro 150
3 Pax = Euro 195
4 Pax = Euro 240
Pick up in Malta or Gozo from your hotel or closest pick-up point by Yippee transport.
Crossing to Gozo by private boat exclusively reserved for Yippee guests. (Weather permitting)
Tour/Safety leader & Full Charge
Light traditional Gozitan lunch
Swim stop in Gozo (summer season)
Return to Malta by private boat passing by Comino's captivating caves. (Weather permitting)
Return to original pick-up point by Yippee transport.
Ferry tickets whenever required
Duration of Tour 7 hours (excluding transfers time)
Safety is our priority and in case of bad weather, we will upgrade guests to a chauffeured Tuk Tuk tour.
Island of Gozo
1. Church of St. John The Baptist, Xewkija, Island of Gozo.
This impressive church boasts the third largest unsupported dome in the world. Access to the roof of the Rotunda via a lift, and from there you can enjoy panoramic 360-degree views of Gozo.
2. Sanap Cliffs, Munxar, Island of Gozo.
Not accessible by public transport or hop-on/hop-off tours, Sanap Cliffs is one of the highest points in Gozo. These breathtaking cliffs are a hidden gem with views of Malta and Comino in the distance.
3. Xlendi Beach, Cliff and Caves, Xlendi, Island of Gozo.
Xlendi is a very popular coastal destination in Gozo, with beautiful blue water, cliffs and Xlendi Tower. We stop at the Belvedere overlooking the Xlendi Tower and bay.
4. Dwejra Bay, San Lawrenz, Island of Gozo.
This is where the famous Azure Window used to stand, although the area has so much more to discover, including Fungus Rock, the Inland Sea and Dwejra Tower. Do not miss the limestone quarries on your way down.
5. Ta' Pinu National Shrine, Gharb, Island of Gozo.
Ta' Pinu is our ´church of miracles´ and a wonderful example of Gozitan heritage. This spectacular Basilica sits by itself in the countryside, with extensive murals and mosaics both inside and out.
6. The Citadel, Victoria, Island of Gozo.
You can't go far in Gozo without seeing The Citadel - our ancient, fortified city perched on top of the rocks, right in the centre of Gozo. From the top of its walls almost all Gozo can be seen. Discover the secrets hidden behind The Citadel´s walls, including WW2 shelters and grain silos.
7. Salt Pans, Marsalforn Bay,
Marsalforn is home to the Salt Pans, which are, as the name suggests, pans cut out of the rock where Gozitans still make salt to this day. The pans stretch for many kilometers.
11. Xwejni Salt Pans - Islands of Gozo
Xwejni is home to the Salt Pans, which are, as the name suggests, pans cut out of the rock where Gozitans still make salt to this day. The pans stretch for many kilometers.
12. Qbajjar & Marsalforn Bay - Island of Gozo
This is where our guests can enjoy a light traditional lunch at a restaurant by the sea.
13. Calypso Cave, Xaghra, Island of Gozo.
Calypso Cave is linked to Greek Mythology and is believed to have been referenced in Homer's Odyssey. Whilst the caves themselves are currently closed, the view overlooking the red sands of Ramla Bay is breathtaking.
15. Ta Kenuna Tower – Nadur – Island of Gozo
The Kenuna Tower is a semaphore tower also known as a relay station or optical telegraph tower. It is situated on the eastern side of the island, by the village of Nadur, on a hill 130 meters above sea level.
16. Qala Belvedere, Qala, Island of Gozo.
Qala Belvedere enjoys beautiful views of Mgarr Harbour and our three islands.
18. Comino's Caves
Comino Caves were naturally formed through hundreds of years of shaping by the rough Mediterranean Sea. Today, these caves are popular destinations as their crystal blue waters and magnificent structures provide an unforgettable experience for all.
---